Yesterday I took my little sister H for a UCAS day at Royal Holloway University and my gosh it was a beautiful place. The old, red brick buildings were gorgeous and it's set right in the countryside. Nevertheless I don't really think she wants to go there but who knows what will happen. I took the opportunity to wear my new top which has a beautiful print of the sky, I absolutely adore it. I've also been totally naughty and bought a new jacket for spring/summer, the leather sleeve one...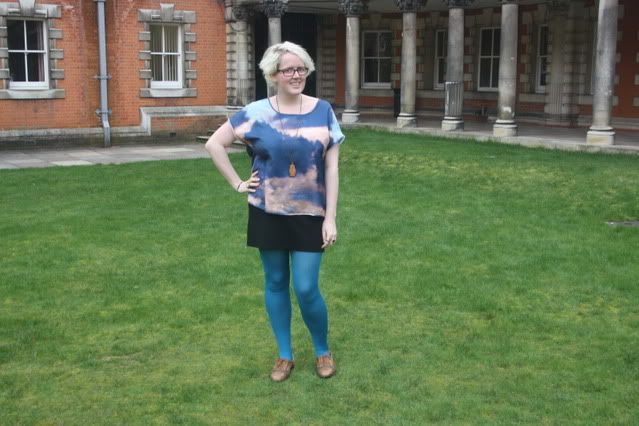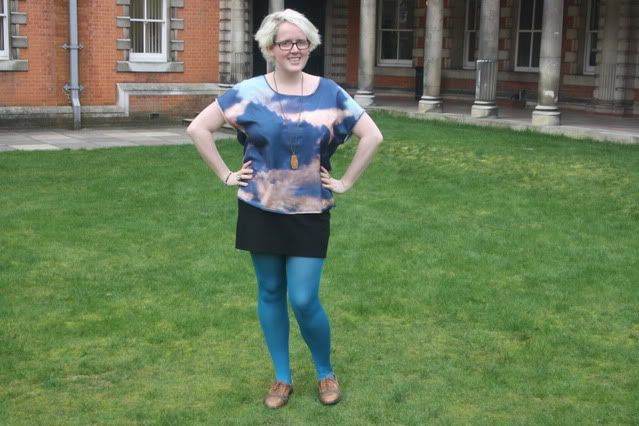 Coat from Zara
Top from Pins & Needles via Urban Outfitters
Skirt from H&M
Brogues from Office
Bag from Dorothy Perkins
Necklace from Stolen Thunder
Wolf and H rings from Love, Hearts & Crosses
Cross ring from ASOS

This outfit is pretty similar to the one
I wore on Monday
minus the hat and with a different top. I'm kind of having a skirt dilemma and really want a semi high waisted black one in preferably an A line shape. Isn't the wolf ring hilarious? I know it was a pretty mental purchase but I think Jacobs wolf face (yes it is from Twilight) is so amusing I just had to have it, after all novelty is my middle name! I'm really into rings at the moment, I never used to wear them but now I can't get enough.
I felt a little silly posing in the university courtyard for a mini photo shoot but the buildings are so beautiful I wanted you to see them. Fortunately it was a pretty bleak day so not many people were out and about.
I'm attempting to give up chocolate for lent. Shrove Tuesday was a complete dairy milk, vanilla ice cream and chocolate indulgence so I must behave for the next 40 days (38 now). Are you guys giving up anything?
No more work this week x