Yesterday I was bed ridden with a horrible cold but now I'm feeling a little better so today I took my little sister H to an interview at Royal Holloway university. Mum really wants her to go there because it's close to home but I think H wants to go somewhere much further away haha!! Wore this outfit to work the other day and it's perfect for showing off my new necklace.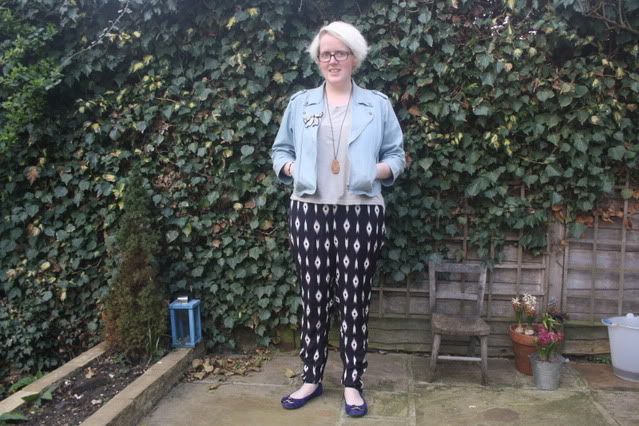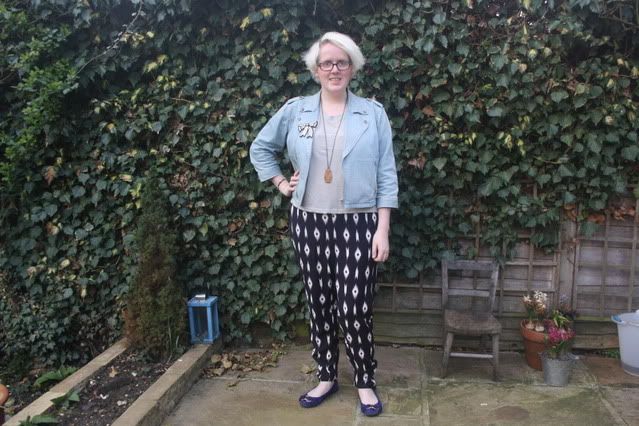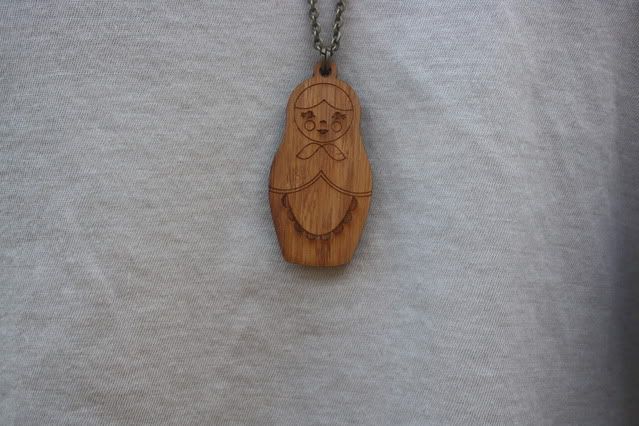 Trousers from H&M
Tee from ASOS
Denim jacket from Uniqulo
Wooden Russian doll necklace from Stolen Thunder
Pumps and bow brooch from Topshop

My sister S informs me that everyone has these trousers but I personally haven't seen anyone else wearing them so who knows. H&M has loads of these harem style printed trousers and these purple pair is definitely my favourite. However, if they bought a pair out in zebra paint I'd be on them straight away. I bought this necklace with
Gem's
15% discount code and I absolutely adore it. The length is perfectly long and the Russian doll is so cute.
Stolen Thunder
have so many awesome jewellery designs on their website plus everything is handmade which is always good things. Some stuff is a little pricey so I was delighted to use the discount.
Only have to work one more day this week (tomorrow) which is good for my social life but not so great for my pay cheque. Because I was ill yesterday and looking after H today I'm missing out on 2 days pay but I am looking forward to my extra long weekend.
Has anyone bought the £9 for £20 ASOS voucher on
Groupon
? It's such a great deal! I'm signed up to the site now so will hopefully find some more bargains.
Still not spring in London x