I want to add a little more structure and variety to my blog so I've decided to dedicate Tuesdays to sharing some of my beauty info with you. It's not really a tips section per say but more to do with the hair and skin products I use. To kick it off I thought I'd talk about my hair care as I like to think my blonde chop is my signature look. I couldn't imagine having a hair colour other than bleach blonde and even though it's maintenance is expensive and time consuming I still love it. So here are the different products I use to keep it icy blonde.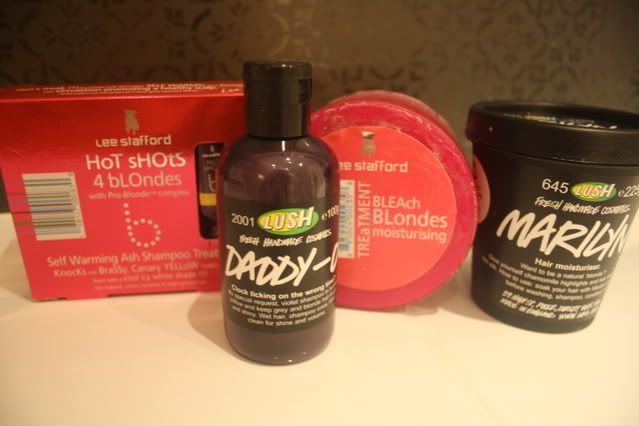 I've tried and tested many different hair treatments and toners to keep the colour and condition in shape and believe that these are the best I've found so far.

Daddy O
and
Marilyn
by
Lush
are two new discoveries and I think they're great. Marilyn is a pre treatment and I put it on my dry hair half an hour before I wash it. The 30 minute wait to wash my now greasy hair is a little gross but the product definitely helps the conditioning process. Daddy O is a purple shampoo designed for white hair and gets rid of the yellow brassy colour you often see with blonde hair. I've tried a couple purple shampoos and this one not only smells amazing but doesn't dry my hair out as much as the others which often contain peroxide. I use it about once a week and when I'm not using it I wash my hair with whatever Aussie shampoo is lying around the bathroom, my favourite is
miracle moist
.
These
Lee Stafford
products have been in my wash bag for ages because they absolutely work wonders, I think his blonde is range really fantastic. The
moisturising treatment
makes my hair feel so soft after all the bleach and hair drying. Because I only wash my hair a couple times a week so as not to make it too dry, I only use it every few weeks but when I do my hair feels silky soft. The
hot shots 4 blondes
are definitely my number one recommended product. The pack contains 3 sachets of toner to use in between the shampoo and conditioner stage of hair washing. The toner completely gets rid of any brassy tones but because it contains peroxide I only use them about once a month. The pack is really cost effective because I only use 1 sachet per month which works out as £2.50 a month. None of these products are expensive and because I don't wash my hair everyday they stretch on for quite some time.
I don't really use a special conditioner on a daily basis but my preferred one it
Aussie miracle moist
. I really like the Aussie range, the products smell great and work well plus they are reasonably priced. As you can tell I like to keep the shampoos and conditioners from the same brand, for some reason I don't like using mismatching products, weird eh?
Let me know what you think of the new section and whether you want to see more from what's in my make up bag etc.
Blonde may be more fun but brunettes have it easy x