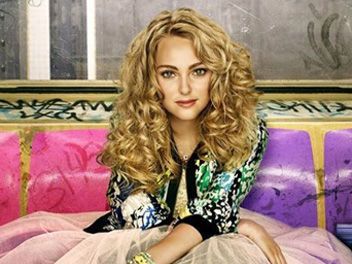 After having short hair for most of my life I am finally growing it out, I'm not sure what length I want but as long as it's long enough to tie in a giant top knot I'll be happy.
For a very long time I hated my naturally curly hair, I spent most of sixth form and university taming it with my trusty GHDs, I wanted it poker straight and glossy like every other girl in town. This was fine as I was only getting my hair highlighted until then but once I graduated university I began to get my hair full on bleached, I was dying for the Lady Gaga platinum blonde look. This meant my hair become severally damaged, dry and frizzy thus making it even harder to tame with my straighteners. I bite the bullet the decide that I could no longer have straight hair (any sort of heat was killing it) and would have to embrace my natural curls. This took a bit of getting used to as well as swapping my entire hair product collection for remedies that made my curls bounce and frizz stay a bay (as best as it can with a head full of bleach). Now I absolutely love having curly hair, the volume suits my face a lot more and on the very odd occasion I have straight hair (twice a year perhaps) I really don't like it. Plus my hairdresser told me that if I start using heat it'll probably start falling out! Curly hair is definitely more me and after all these years my crazy white fro is my signature look, my friends always say they spot my hair first in a crowd. The growing element is taking some time and I don't think I'll have my desired length for another year or two but it is getting there.
In the mean time I have absolutely fallen in love with Annasophia Robb's hair in the new TV series, the Carrie Diaries. Now let's not dwell on how absolutely cheesy the shows is, apart from the soundtrack which is awesome, but let's talk about that amazing head of curls. Just wow! The curls are so defined and bouncy and are the exact look I want to achieve when my hair is finally at my perfect length. I know her curls aren't natural but on a good day my hair does dry naturally in that style, the only problem is once I sleep on it for a few days it's starts to seriously mattify and become a mess. I will continue to fight the battle of having bleach blonde, curly hair and whilst it is a pain to maintain for me it is totally worth it.
Who's your hair icon x