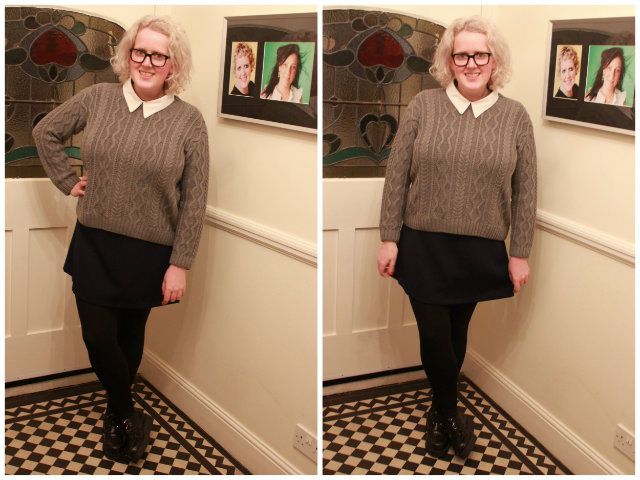 I love going to see bands live whether it's little local bands in small pubs or big world famous bands in massive arenas. You all know my favourite band it Green Day right? I've seen them so many times and never tire of their amazing live shows, oh so many memories! Last Friday I went to see Teenage Bottle Rocket and Dropkick Murphys at the HMV Forum in Kentish Town, I'd never been there before and it was a really good gig despite the speakers blowing and some very smelly topless men...
This is what I wore and as gig outfits go it's pretty typical for me. Easy to wear dress with a cosy jumper and sturdy shoes, bish bash bosh! This dress is actually a new addition to my wardrobe, it's navy with this fab pointed collar making it very easy to wear. My Mum tells me it's just like her old nursing uniform especially when coupled with my red satchel. The shoes are my latest purchase from Underground, I just love myself some chunky creepers and during a gig it's important to wear something comfy that will keep your feet protected from all the moshing!
When it comes to buying tickets I often forget on the day they are released and before you know it they've sold out, however with the help of eBay owned website
StubHub
you can buy second hand tickets with the security that they're real deal. You can
visit the site
for One Direction tickets, theatre tickets, sporting events and more.
What do you wear to gigs x