On Sunday I mentioned that I was off to the Royal Albert Hall with my family for a
night of celebratory music
so this is a kinda of take 2 'dressing for the evening' version of my
outfit from that post
. I basically threw a jumper on a some coloured tights to keep warm. Because my tights were yellow everyone was joking that I looked jaundice hence the name of this post. Me being me I ripped the tights are soon as we left the house so now that are unwearable much to my disappointment because I kind of liked having yellow legs.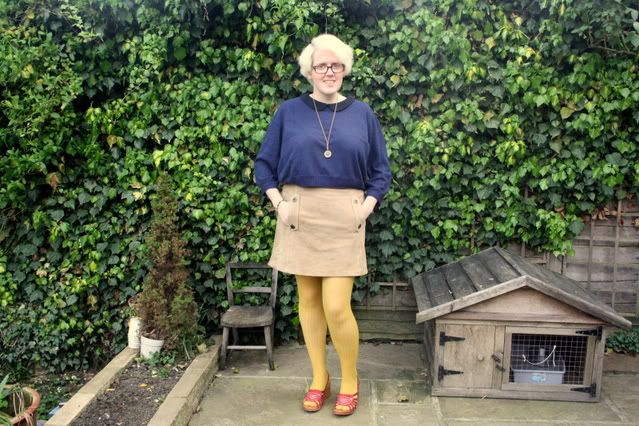 Jumper from ASOS
Top and skirt from Topshop
Wedges from Roxy
Necklace from Zara Taylor
I like how this jumper is cropped and thin knit, makes it perfect for wearing on summer evenings as it isn't too heavy. Plus letting the Peter Pan collar of my tunic underneath stick out is a nice addition of detail to an other wise plain top. Kind of doing the whole colour blocking thing here I suppose which I like because I'm a big fan of colour!
The music that evening was wonderful and we had incredible seats, our own semi private box to be exact. You would have recognised all the different songs and even though I was initially apprehensive about the whole evening, I'm glad I went because it was really fun. The Royal Philharmonic Concert Orchestra were completely amazing and the Royal Choral Society sounded beautiful plus the conductor Anthony Inglis was really funny
I love how decadent the Royal Albert Hall is. Everything is red and gold and the organ at the back of the stage is just enormous. The acoustic discs on the ceiling are really interesting to look at and because of the venue is dome shaped you get a great view of everything. Definitely a top family outing this time.

Do you go to events with your family often x
Follow with
Twitter
Facebook
Bloglovin