When I was travelling around South East Asia last year I bought a few items of clothing from all the different countries I visited. This included 2 tailor made dresses in Vietnam, trousers in Cambodia, a vest in Laos and lots of different items in Thailand. My favourite piece from the entire trip is this hand made, embroidered skirt from the Sunday market in Chaing Mai, Thailand. It cost a couple of quid and I just love all the detailing and colours on it.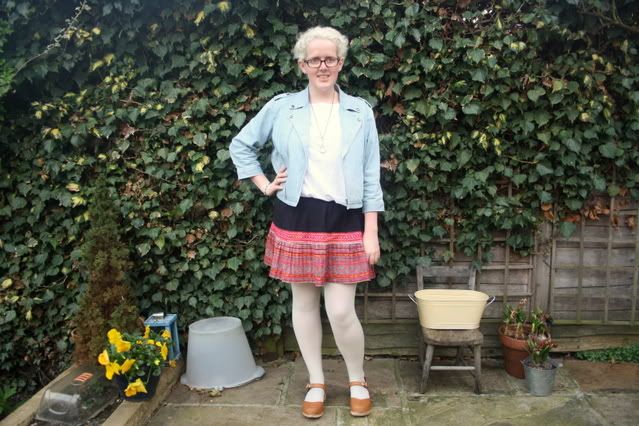 Skirt from Thailand
Tee and clogs from ASOS
Denim jacket from Uniqulo
Necklace from Zara Taylor

I bought this top using one of my Groupons and even though it isn't very exciting I wanted the perfect which tshirt and I'm happy to say I found it. I painted me nails blue and silver last week before changing to the leopard print yesterday. I never used to do anything to them so I'm trying to make a little more of an effort these days.

I used to have a big bow brooch on this jacket but when I wore it to Brighton the other weekend it some how managed to fall off without me realising. I had a few too many ciders by this point so it's no surprise but I'm on the look out for a replacement.

Follow with
Twitter
Facebook
Bloglovin