So far I've covered some of my favourite hair products and make up brands so this week I though I'd focus on my skin care i.e. getting rid of London dirt and grim. I have some products I use daily and some that I use know and then when the fancy takes me. I like my bottles to look pretty and once again I like sticking to similar brands.

On a daily basis I use
Lush
Ultra Bland
to cleanse,
Eva Roma Water
to tone and
Celestial
to moisturise. All these products are designed for dry, sensitive skin and they leave my face feeling refreshed, invigorated and soft. Unlike some products that don't leave my skin feeling tight and fragile which really isn't very comfortable. I recently had to replace my favourite
Benefit pineapple facial scrub
with the
facial polish
from
Amie
as it is no longer manufactured. This brand is a new one for me but I'm glad I discovered it as sensitive skin is its target audience. Again, this product does a great job of scrubbing without being harsh plus it smells lovely.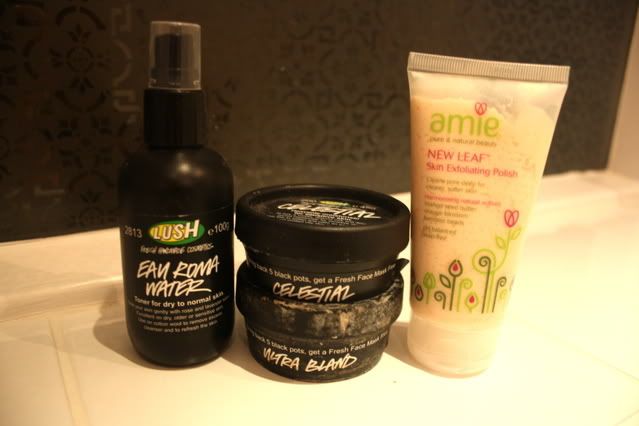 When I'm feeling a little luxurious I like to splurge on these next couple of products. The first two being Benefit's You Clean Up Nice face wash and See... That Was Quick make up remover. These have probably been discontinued now because Benefit have a brand new skin care range coming out which I'm sure will be lovely if not a little on the pricey side.

My final three products include this Evian water spray and
Boots
Cold Cream and Skin Tonic. The cold cream is the perfect multi purpose face cream and the skin tonic is a lovely fresh toner. Along with the water spray they make my face feel really hydrated and happy. Plus, I love the vintage feel of the Boots bottle, they look perfect on your dressing table.
I used to be terrible for trying out lots of different skin care products and never finishing the bottles but after all these years I've pretty much settled on my favourite brands. I do like trying out new things now and then but because my skin is so sensetive it can be difficult to find the perfect product. Lush use natural ingredients which is why I continually use their products time and time again.

Do you stick to the same skin regime x


Follow with
Twitter
Facebook
Bloglovin