I've been debating whether to do this post or not but I've just decided to come out with it because writing and sharing tend to make me feel better!
Last week Dom and I broke up after a wonderful relationship. I wont go into too many details but the distance (London and Leeds) made it difficult plus I want to do a PhD and more travelling which will take at least 3 years of hard study and dedication. We are both in different places physically and metaphorically!
The decision was mutual and we ended on good terms and as best friends. Our friend H is celebrating her 24th birthday in Liverpool and we are still going with each other. It's been difficult and I've shed a lot of tears but I know we made the right decision and it's better to end as great friends than continue on and end in an argument!
I've been talking to
Victoria
about it all, she's been a great help and given me some wonderful advice. In times like this I find talking about things make the whole process a little easier. At first I didn't want to talk to anyone since it made me so sad but now I'm feeling a little better and talking about it actually helps. This might sound ridiculous but one of the things that bothered me was pressing 'the button' on facebook, you know, the ones that turns you single. I just hate seeing that little broken heart, well depressing lolz!
On a brighter note, I got my hair done yesterday and I love it! It's icy white and quite short with a big fringe thing. I was inspired by
Gem
, I love her hair so much and think it always looks really cool. When I got out of the hairdresser it was raining and I didn't have an umbrella so it got messed up almost straight away which is why this picture looks a little silly!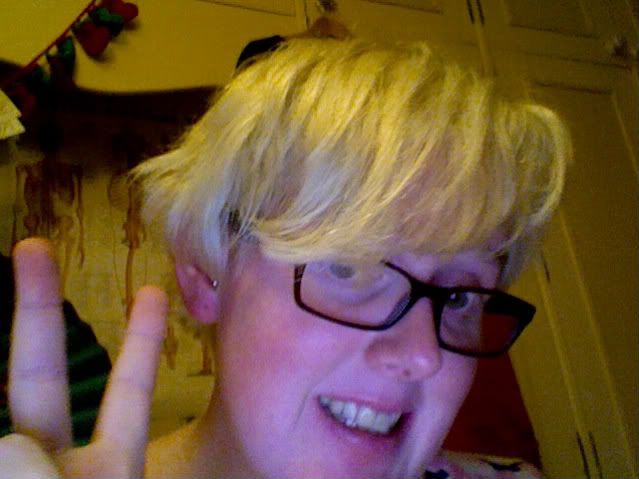 Going to the cinema to see 127 days now x