First off all I just want to say a massive THANK YOU for all the kind comments you guys left regarding my break up. It's really nice to know so many of you care and all your kind words really did make me smile. Everyday gets a little easier and with all the support out there I'm incredibly lucky. If any of you have or are going through the same thing and fancy a chat just send me an email.

So...

Yesterday I travelled all the way to Liverpool to celebrate a fellow Hannah's birthday! Liverpool is pretty north for me and considering I've never been before and the fact I'm a true Southerner I found the city really enchanting and definitely want to visit again. The accent is amusing (I find this with all Northerners) but everyone was so friendly.
Train supplies - 2 back issues of Grazia, iPod, broken BlackBerry, tickets, Diet Coke, water and lens cap for my camera
In the hotel room with my borrowed Canon 1000D
We went to the
Cavern Club
for afternoon drinks. It's where the Beatles used to perform and as you can imagine the place is full off Beatles memorabilia. I wanted to do the
Beatles Story
but I ran out of time. I adore the Beatles so I'll definitely go back to Liverpool to do some actual touristy stuff.
H&M rust coloured jumper with elbow patches
and my new
rusty Topshop tunic complete with Peter Pan collar and spots
. Some may think this is a rust overload but I really like these two pieces together. Rust is all around at the minute so I might as well embrace the trend head on whilst I can.
The evening was spent dining at Pizza Express and dancing to 'it's meant to be indie but it's really not' music at the O2 Academy. It was a fun night despite feeling like we were the oldest people in the club but the drinks were cheap (as you can tell from the picture below) and the music was fun.
I stupidly (and as always) didn't take a picture of my going out attire before heading to said 'out' so all I can show you is this terrible group shot. I'm wearing my favourite
Topshop blue silk dress
with a Tesco lace top and H&M tinsel skirt layered on top. I love this dress but find I wear it far too often on nights out so I'm trying to style it up a little different. I've got my new ish Topshop coat and H&M bow necklace on top too. If my handbag had been big enough I could have just whipped the top and skirt off halfway through the night for a new look!
On the return journey I rocked my new Topshop dress and hungover hair. I saw this dress ages ago and fell in love with the leopard print Peter Pan collar (obsession) and the floaty shape. However, my local store only ever had it in super tiny sizes. The other day I cam across this size 12 (not my usual size but still fits) and was delighted because I thought it had sold out long ago.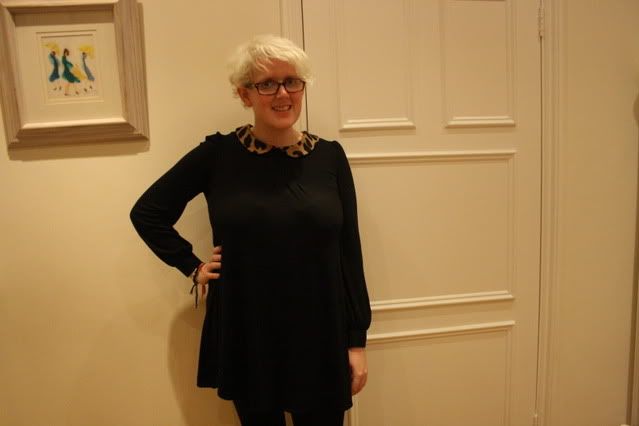 So I had a great weekend; it's always love to catch up with old friends and see new places. Dom was there too and it was the first time I've seen him in the flesh since the break up but everything was fine. We had a hug and a chat without feeling awkward so we're both feeling slightly better about the whole situation. The girls were super nice about everything and I came home today full of cheer and knowing that everything will be OK!

Diet down the pan this weekend obviously x