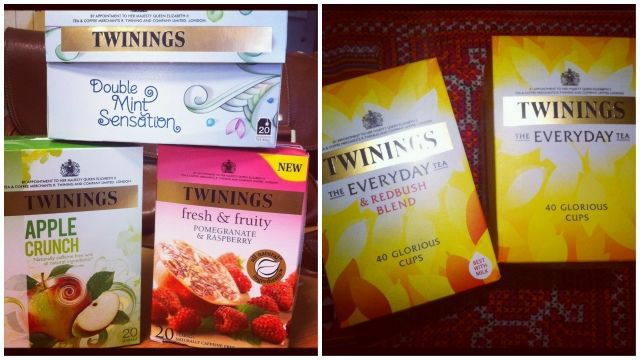 You probably don't know this but I don't like tea or coffee, shocking right? I say I don't like tea but what I really mean is I don't like
black tea
, however I am a huge fan of
fruit tea
, the fruitier the better in my opinion, but not green tea, I'm definitely not a fan of that! Twinings is my favourite brand for fruit tea, their Cranberry, Raspberry and Elderflower mix is my go to so I was really excited to try a few new flavours.
Pomegranate and Raspberry - this was definitely my favourite of the 3 fruit teas I've been trying, so fruity and definitely a revival to my favourite pink tea. I've been drinking this non stop and not only does it taste delicious but it smells wonderful as well.
Apple Crunch - this actually tastes like you're eating an apple, the taste is vibrant and delicious with just the right amount of apple tang.
Double Mint Sensation - this mix of peppermint and mint will definitely get your head tingling, it's the perfect morning pick me up and even though I'm not normally a fan of peppermint tea I did enjoy the minty fresh taste and powerful smell. This tea definitely got my office talking as it smelt so strong.
Everyday Tea and Everyday Tea Redbush Blend - as I mentioned before I'm not a fan of black tea so I left these boxes in the kitchen at work and asked everyone what they thought. One of my colleagues has really been enjoying the redbush blend and is now finding it difficult to drink the normal tea on offer at work so I'd say that's a good review.
Do you like fruit tea x