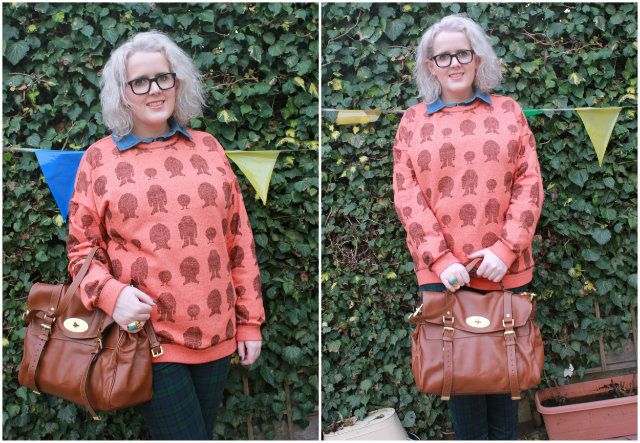 This week has been unusually luxurious for me as I've purchased two things from one of my favourite British designers, Mulberry. I've wanted an Oversized Alexa for absolutely years, when I first laid eyes on the bag I knew it was the perfect style for me especailly as I love the satchel shape so much. After saving my hard earned birthday and Christmas money I was finally able purchase my dream bag and fortunately because I know someone who works at Heathrow I was able to save almost 30%. When I picked up the bag on Saturday I couldn't be more thrilled, it's absolutely perfect and with a little love I know it'll last for a very long time.
My second purchase was this wonderful 'Where The Wild Things Are' sweater from Mulberry's AW12/13 collection. I had spied this several months previously and whilst I loved it back then I never really considered buying it, however when it went in the Net-A-Porter sale for 30% off I knew it was now or never. I am so glad I purchased this because I absolutely love it! It's quite an oversized jumper and perfect for wearing with shirts as the collar nicely sticks out plus it's super comfy and the Maurice Sendak inspired print is so adorable, I just love all those little wild things! I'm actually quite tempted to pick up
this top
from the same collection as well but that might just be Mulberry overkill (is there such a thing)!
Anyway my weeks aren't normally filled with such extravagant purchases but as I get older I'm leaning towards more expensive but better quality items rather than lots of cheap clothing that doesn't stand the test of time.
Have you bought anything from Mulberry before x