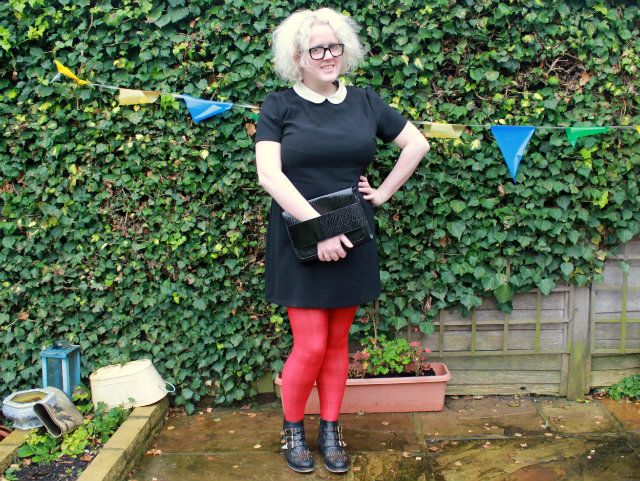 I'm not really a clutch person, I like my bags big so I can carry around copious amounts of stuff that I have no use for but when I saw this little black number in
Monki
a few weeks ago I knew it would be perfect for nights out when a handbag gets in the way of dancing. What I particularly like about this bag is the strap design, the clutch if firmly held in place at your wrist making it less cumbersome (something I hate about clutches normally) and more practical. It's also fairly big for a clutch so can still fit a good amount of my junk in it. I also like a shiny faux croc-style vibe going on, perfect for all those Christmas parties I have coming up (yeah right)!
Another note on this outfit, the tights are actually inside out. They have this pretty loud red and black tartan pattern going on that I'm not mega keen on but inside out and it's a lot more subtle. I also bought another black peter pan collar dress, this one is so similar to my old
ASOS
version but I really like the short sleeves and less flippy skirt, I might sell the old one on eBay, maybe...
This morning I did a 10K race in Wimbledon which was nice if not a little muddy, I'm off to Iceland on Thursday and have a pretty busy week before so probably should start packing tonight. I still haven't done a post on my latest trip to Marrakesh and Paris, oops!
Are you a clutch person x
Follow with
Twitter
Tumblr