Another Fashion Week done and dusted. I was super unorganised this year and left all my planning to the last minute but despite that I still managed to make a few shows and most importantly, catch up with some of my favourite blogger babes. When I wasn't hobbling around Somerset House in broken shoes (thanks River Island) I could be found at the Glam Media Suite sipping champagne and having my make up redone thanks to Rimmel, ah lovely.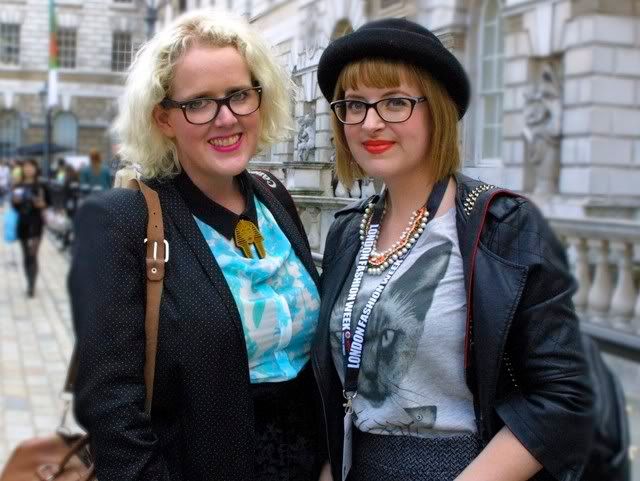 Velvet skater skirt from River Island
Polka dot blazer from Topshop
Necklace from Tatty Divine
Socks from American Apparael
Flatforms from River Island
Leather bag from Marrakesh
I like wearing an all black outfit with a burst of colour and this sheer almost cloud print shirt did the trick. I bought it ages ago on a whim and hadn't actually got around to wearing it so decide that fashion week would be the perfect time to road test it. I also enjoy combining different textures like velvet and suede as they make black look a little more interesting. My necklace was the main feature of this outfit though, it got street snapped several times (not me, just the necklace haha)! I love Tatty Divine jewellery so much, this piece is a year old at least but it's really fun and such a stand out piece. I loved studying ancient Egypt at school so when I first saw their Egyptian collection I need I had to get something. I bought this bag on my recent family holiday to Marrakesh. It's from the famous souk and required a lot of haggling but considering it's real leather I paid an excellent price for it, I love the Doctor bag shape and it's perfect for holding all my junk.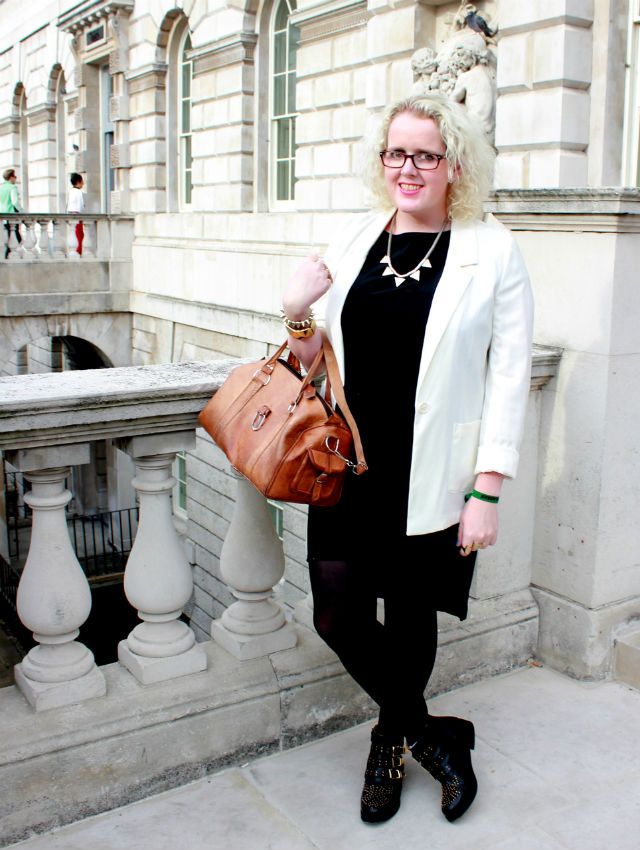 Day 2 - thanks for taking these
Fritha
Spike bracelet from ASOS
Rings from Topshop and Born Nostalgic
First of all, I bloody adore my new studded boots! I picked them up last week with my sister's 25% student discount and I haven't stopped wearing them. To be honest, they need a little more wearing in until they're completely comfortable but they're getting there. My outfit was based entirely around the boots so a black, gold and white colour scheme seemed like a good idea. I really like the relaxed but somewhat smart feel to this dress. It's oversized and asymmetric but quite a nice satiny material so it's easy to dress up or down. I piled on the gold jewellery and viola ready to go.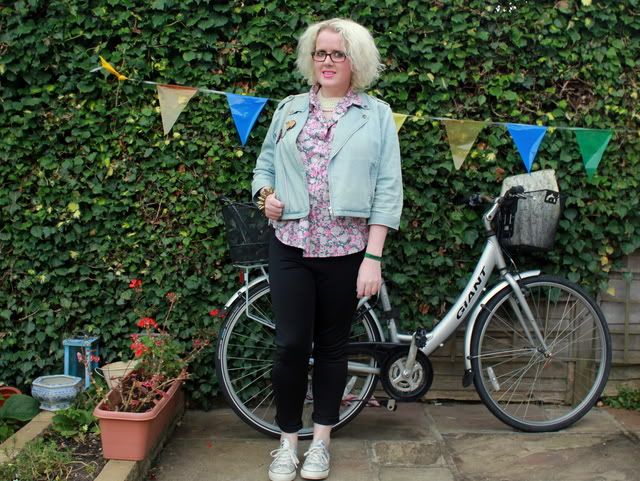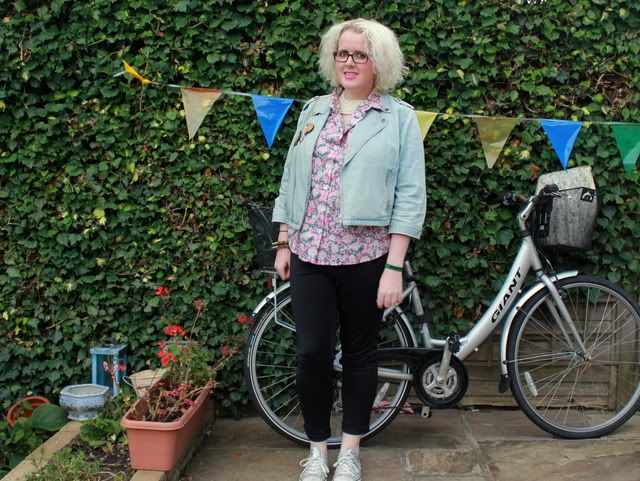 Day 3 - Somerset House photo shoot failure
Denim jacket from Uniqulo
Disco pants dupes from River Island
Sequin Converse from eBay
Brooch from Stolen Thunder
Didn't really have a plan to what I was going to wear on Sunday but I knew I wanted to wear my favourite sequin Converse and be fairly casual. These disco pant dupes are really comfortable but they're also too big and now that I've taken the tags off and worn them it's too late to return them but maybe I can shrink them a little in the wash... This was definitely the most laid back of all my outfits but I love the oversized shaped of this floral shirt and with the tight trousers it's a silhouette I really like.
So that's what I wore, think day 1 is my favourite even though one of the ankle straps on my flatfoms broke so I had to hobble around all day leaving me with an extremely sore foot. I also went to a few shows over the weekend and got a few decent photos so I'm going to review them soon. Until next time, fashion week...
Did you make it to fashion week x
Follow with
Twitter
Tumblr