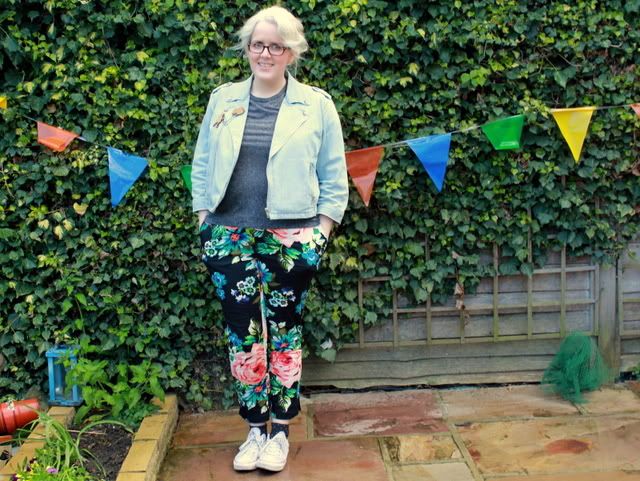 Grey tee from Topshop
Denim jacket from Uniqulo
Floral trousers from H&M
Brooch from Stolen Thunder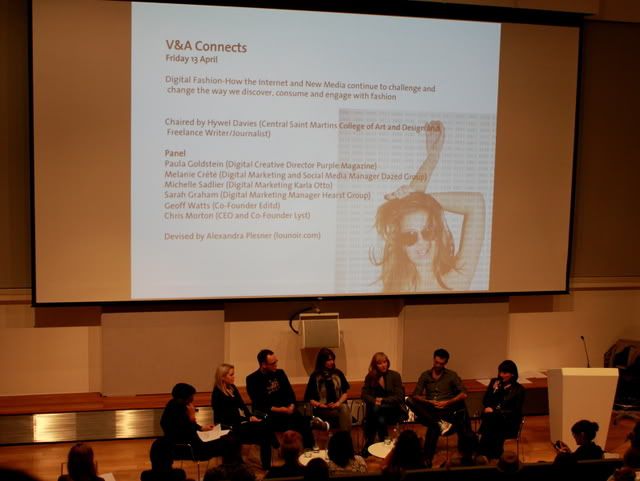 Evening all, I hope you've had a nice weekend. Once again I've been a busy bee. On Friday night I went to the
V&A Connects - Fashion Blogging
talk. The talk itself didn't really interest that much, I was more concerned about seeing some of my blogging favourites AKA
Lily
,
Sarah
,
Sarah
,
Michelle
,
Jazmine
,
Rebecca
and
Caroline
. After the museum, I popped over to Carnaby Street with Lily where we met
Sophie
for dinner at the Diner. It was delicious, as always! On Saturday I spent a glorious THREE AND A HALF HOURS in the hairdressers getting my roots bleached and a trim. I go to the
Witches Hut
in Clapham Common, Frankee has been doing my hair for years and I throughly recommend that place. I'd say it's cheap by London standards. She styled my hair into the most fantastic beehive which I tried to recreate myself today and failed miserably! After my hair appointment I went to see the
Quentin Blake exhibition
at the Foundling Museum, it was lovely and made me very nostalgic. Roald Dahl books were my favourites as a child and Blake's illustrations were the perfect accompaniment. After food in Nandos I made use of my 241 CineWorld tickets and saw Cabin in the Woods. As horror films go it was pretty amusing and despite the somewhat crazy ending I did enjoy it. Today I went to
Sotheby's to see Munch's Scream
which is being sold in New York on May 2nd. I did a spot of shopping on Oxford Street, finally ate at Leon and cleared out a massive pile of eBay clothes in my room.
Anyway, on to the point of this post. Floral trousers are big for spring this year and you can grab a pair from almost any high street shops. This particular H&M pair are a bit of a blogging sensation which is probably because they only cost £12.99. When I saw
Sophie
and
Amy
rocking them I knew they had to be mine but wearing a pair of trousers this bold can be somewhat difficult. To add focus on the print but still remain day time approriate I wore them with a pain tee and denim jacket. This makes the look casual but still on trend as the floral print is doing all the talking. Next time I might go for a smart blazer or a wolly jumper. I'm not quite braze enough to try print clashing with these yet!
Are you wearing floral trousers this spring x
Follow with
Twitter
Tumblr