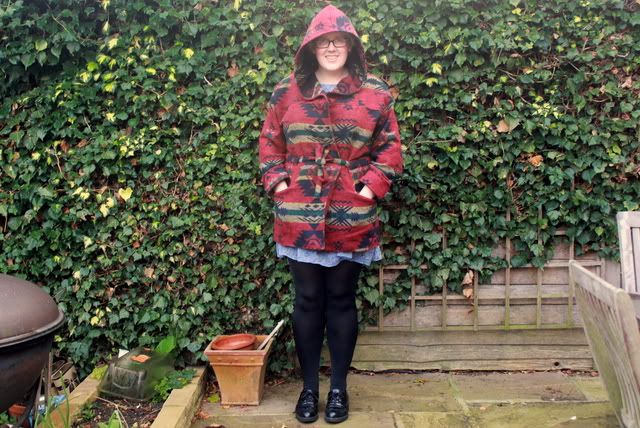 Coat from Forever 21

Dress from Dunnes Stores

Creeper brogues from ASOS
I love Aztec print so much! All the colours, patterns and different styles are just a feast on my eyes and there is some really cool stuff out there on the high street. I've spotted a few really fun coats and jackets but since I've already spent far too much money on winter overalls this years I can't really justify forking out on another coat. However, a few weekends ago I spotted this lovely woolly jacket for around £30 and knew it was the perfect Aztec price concious fix. It's warm like a dressing gown, has big pockets and a massive hood i.e. the 3 most important qualities of any jacket. It's on the short side so even though it's warm I wouldn't wear it on a freezing cold day but apart from that I will be wearing it all the time.
I've had a really nice weekend. On Friday I went the
Griswalds
in Camden, I've seen them a few times now and they're a really fun pop punk band. Yesterday I spent the day in Chelsea with my Mum. We visited the
Christmas Shop
in Harrods, had lunch at Yo Sushi in Harvey Nicks and wandered down the Kings Road. I finally bought myself Double Wear and a gorgeous Chanel lipstick. Today I saw Breaking Dawn which I must admit was much better than I expected. I have a love-hate relationship with Twilight, I very much enjoyed the books as they're the perfect example of light reading but at the same time I can't stand how pathetic Bella is. Anyway, all-in-all and lovely weekend.
Do you like Atec prints x