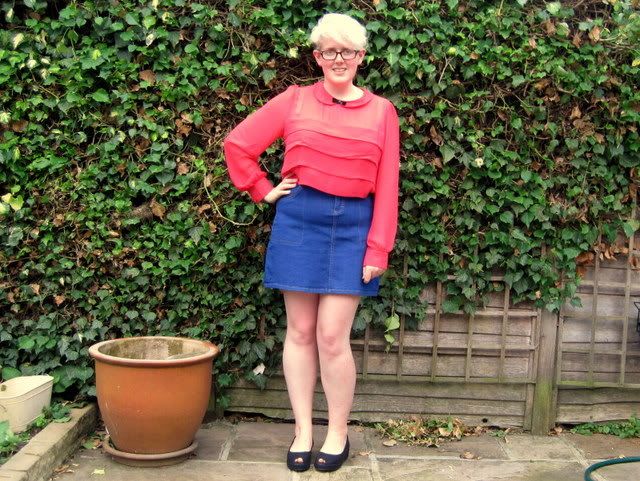 Shirt and skirt from Topshop
Bow brooch
from ASOS
Pumps from Urban Outfitters
It's nice to wear something bright pink now and then, even if it does clash with the orange doors at work. Pink always works well with blue and with the colour popping trend around for summer it's the perfect way to give the trend a go as everyone has some denim in their wardrobe. This shirt is quite sheer but the panelling at the front stops it being too see through thus making it a good choice for work. I attached this cute little bow brooch too, just for fun!

I bought these pumps a few weeks ago from the Urban Outfitters sale for £18. I love how they have a slight platform, I'm a big fan of wedges so they were a must for me.

Considering I like the colour pink a lot I don't actually have many clothes in the colour. It's probably because it clashes with my often flushed skin tone but I'm glad I bought this shirt, because it's a nice bright addition to my wardrobe. Plus it has some extremely cute buttons down the back which are always a nice detail for me.

Do you ever wear pink x