Had the day off yesterday and I ventured into central to visit friend S for lunch on the Strand and have a nosey around Covent Garden. I wanted to visit one of the galleries in Trafalgar Square but I ran out of time so I shall have to go another day.
I visited Lily Allen's shop,
Lucy in Disguise
because they first time I went several months back I was a little disappointed so after watching her
new TV show
I thought I'd give it another bash. Second time around and things hadn't really changed, everything is over priced and ridiculously over the top in terms of style. However, the shop itself is nice and spacious, the interior is right up my street and the vintage magazine scattered over the shelves are a nice touch. I wasn't allowed to take any photos but I would recommend visiting it at least once so you can make up your own mind. For the record, I am a fan of Lily Allen, I love her
music
and
style
and even though she is totally naive about the real world and real girls at least she is honest about it. FYI both times I went to the shop Lily was not there in case you were wondering.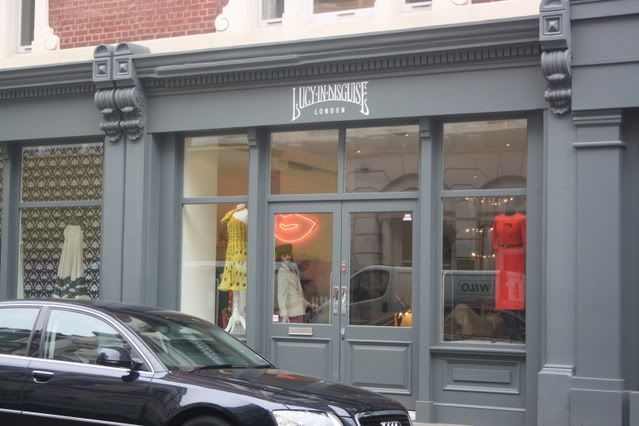 Decided to wear some trousers for once as the past few days have felt like a mini clothes crisis and I've been having the reoccurring sense of 'I don't know what to wear'!!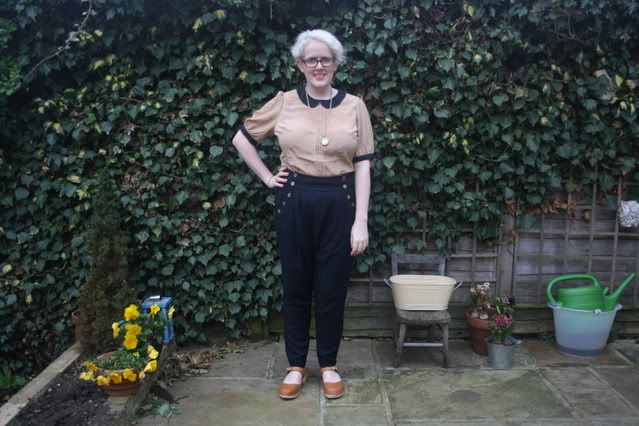 Blouse and clogs from ASOS
Trousers and watch necklace from Topshop

I got my hair done the other day hence the close up shot. It's a bit of a mess because I'm hopeless at blow drying it. I got it trimmed about and my roots bleached. It's meant to be a little grey but these photos make appear to be whiter than white. My brilliant hairdresser Frankie decided that the greyness should be gradual and next time I ago she'll put a little more toner in it. I wish the watch necklace actually worked because it would be brilliant considering I don't have a proper watch. The second hand moves but the other two don't =(
I also popped into MAC and bought a lip gloss from the new
Wonder Woman range
, it's quite purple and totally lush. I also tried a few red lipsticks too and once I have a little more money I'm going to get one. I really love bright pink lipstick but I've been scared of red since the colour is so intense but I tried a few and discovered that the colour actually quite suits my complexion.
Happy Paddy day x