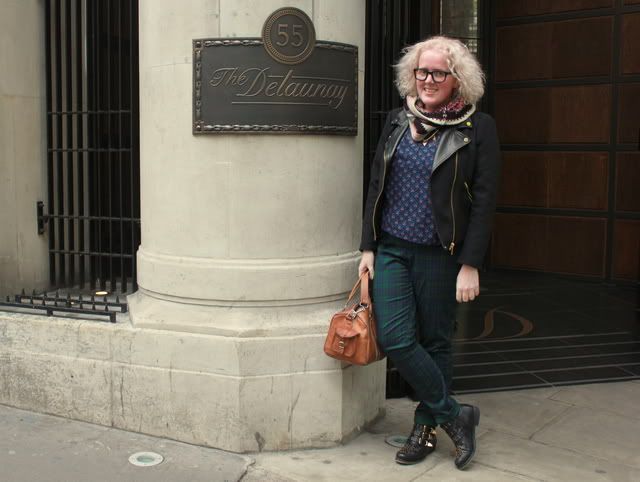 Floral blouse from Topshop
Bag from Marrakesh market
Autumn is always the perfect season to bring out the patterned trousers, with colder weather and deeper colours in the air you can experiment easily with fun leg prints. These leggings caught my eye the other day and I knew they had to be mine, they're the perfect shade of green tartan and because of their legging style they fit so nicely. Now, I am not a fan of the whole replacing trousers with leggings, I think it looks horrible but with these I really do believe they look like proper trousers. They also have a pair in
red
I really want to buy next and at £14.90 they're a bit of a steal.
5. St Pancras roof 6. at The Delaunay bar 7. Krakow martini (vodka and blackberry) 8. S with her Black Velvet cocktail (Guniess and champagne)
9. Me and S 10. prawn cocktail 11. croque monsieur 12. rib roast
Today Mum, sister S and I went for a little bit of champagne tasting at
Searcys Champagne Bar St Pancras
followed by lunch at
The Delaunay
which was delicious. I highly recommend the Sunday rib roast and if you've never been to The Delaunay or The Wolsely they are both a treat. The food is European style and not only is it delicious, the service is fantastic and the interior is exquisite. The restaurant is a real experience plus they do a bloody good brunch if you like eggs.
What did you do today x