When it comes to make up there's nothing I love more than the pinkest of pink lipsticks. Lipstick is probably my top make up love and my collections of pink lip products is a little excessive. Whether it lipsticks, balms or glosses I want them all in as many shades of pink as possible, the brighter the better!

Most of my lipsticks are from MAC because I really do believe they are the best when it comes to colour, texture and quality plus they are sort of reasonably priced. The only lipstick I have from Benefit is My Treat and the colour is a lovely peachy pink, perfect for during the day. From MAC I have ink Nouveau, Hello Kitty Big Bow, Saint Germain, Viva Glam Gaga, Impassioned and Dane Edna Coral Pump. My favourites are actually the Hello Kitty and Dame Edna limited addition lippies because the colours are so intense. The Rimmel Rose Sorbet is a kind of coral colour and really nice when you want to keep your make up quite minimal. Forgot to take a picture of my MAC Speed Dial which is a lovely mid tone pink.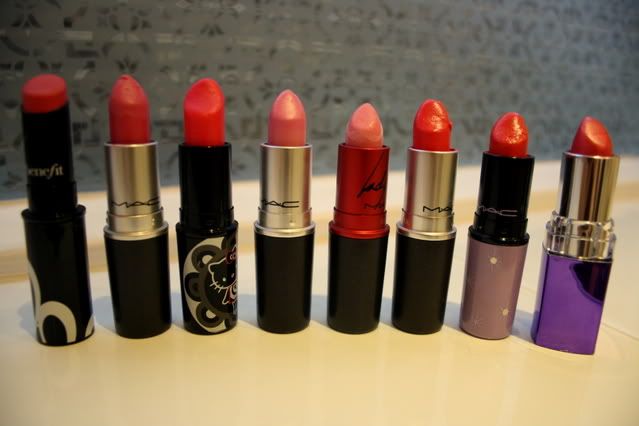 I'm a bit of a lip gloss junkie too and love putting them on over lipstick to make the finish more glossy or even to create a new colour. From left to right is Benefit Kiss Me, NARS Rosy, MAC Pink Manish, Barry M 11, MAC Hello Kitty Nice Kitty, Benefit Pocket Pal and Ruby and Millie Sunset. Pocket Pal is great because you can build up a really intense red/pink colour and I love putting the slightly less pink ones over a really intense lipstick.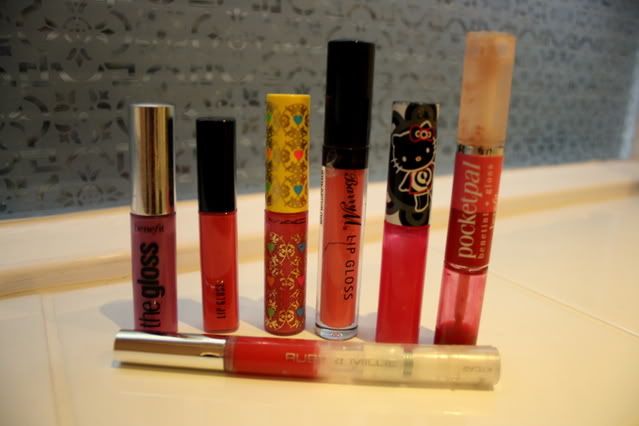 I have a few squeeze tubes as well including Too Faced Mood Swing and Anatomicals I Never Fake Strawberry Milkshake. The Too Faced one is amazing because the colour intensity increases depending on your lip concentration.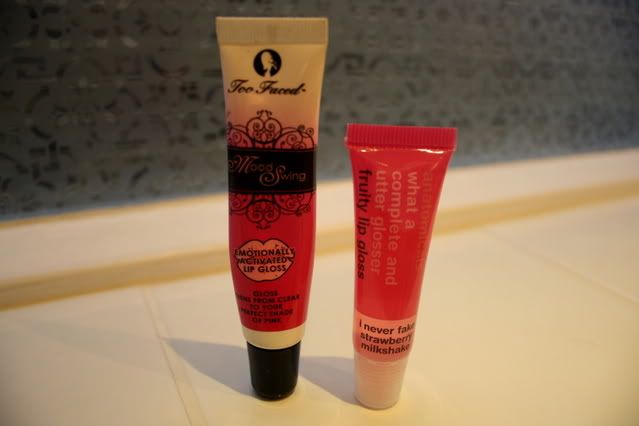 When I go out I always end up bringing so many different lip products out with me because I never know which I like best! I ended up putting at least 3 colours on at once and constantly change the colour throughout the evening for fun. Because I have so many different colours, everything lasts for ages, especially since I don't really wear make up during the day time but just for when I go out.

I've spotted a purple/pink shade lipstick and gloss from NARS which I love but I'm on the look out for a cheaper alternative, possibly from Barry M!

What's your favourite lip colour x

Follow with
Twitter
Facebook
Bloglovin