Back to London and back to work now. Ireland was lovely and peaceful but I am enjoying the hustle and bussel of London life again. Last night I went to see Black Swan with G and K, it was extremely intense but amazing, I definitely recommend you all to go and see it. The costumes and make up were beautiful and Natalie Portman's acting was divine, no wonder she won that Golden Globe. After the film I bumped into 2 old school friends whom I hadn't seen for YEARS, was completely random (like the film) but nice to have a catch up.
These are some pictures from my final day in Ireland, posing on the lawn. I hate doing 'photo shoots' they make me feel like a right idiot because I don't know what to do, where to look or how to act. I have no idea how all the 'big' bloggers manage to look so effortless in their photos. Seriously, how do you act in front of a camera? My normal hand on the hip and cheesy grin is getting a little old I imagine but that's really the only way I can poise so you just gotta put up with it!!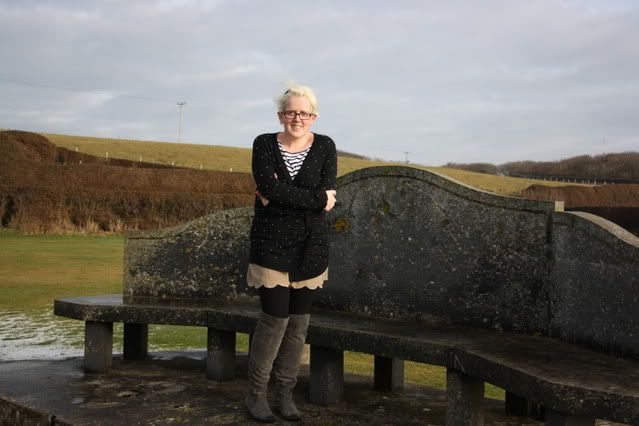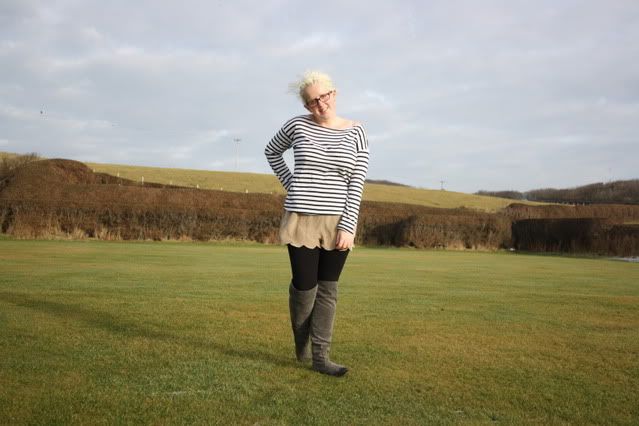 Short from Topshop
Tee and cardigan from H&M
OTK boots from Office

Mum bought me these shorts the other week and I just adore the scallop trim on them. I think they add a really interesting detail and still remain chic. Topshop also have some cute
scallop trim vests
in lots of different colour. I think I might buy one on pay day but not sure which colour, black, white or something bright? I think the shorts are a size too big because they are quite baggy, but when they arrived I really couldn't be bothered to change them for a smaller size so I'll just have to stick with them.
Ireland was really cold and windy hence my crazy hair. It wasn't a good idea to wear suede boots on the wet lawn either because I ended up with cold, wet feet!!
Seen some lush shoes in H&M on my lunch break x